God has graced our ministry with an outstanding staff who are passionate about the vision to reach America and the nations. Without team ministry, Action Evangelism could not accomplish the vision God has given us.

ADMINISTRATIVE ASSISTANTS
Through years of God's preparation for ministry, Joe and Carole were called to serve
in many different venues. Joe was a former pilot for United Parcel and Carole loves
to work with compassion ministries. God linked them with Jerry and they joined
hands and hearts to see the vision of taking the gospel to the nations. Carole faithfully
serves as administrative assistant and oversees the work of coordinating MAT teams
and KLU's in various nations. Joe serves as Registrar for KLU.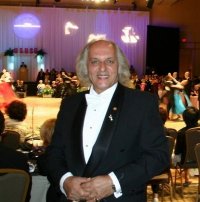 AMBASSADOR FOR CHRIST TO THE NATIONS
Socrates has been bless to be God's anointed minister and ambassador to the nations.
He has had experience in heading

up

large venues like the international dance olympics in Greece. He was also called to own and mange the "Royalty Theater" in Clearwater that sponsored many Christian events to promote the Kingdom of God. He truly is a kingdom man and as part of the

Action Evangelism staff we are excited to see how God is using

him

to raise up and promote "Pray Across America" in key cities beginning in Clearwater, Dunedin and the Tampa Bay area and then going across America. Socrates has also opened up a

Kingdom Life Univeristy

on the main street of Clearwater.
WITHOUT DEDICATED VOLUNTEERS, WE COULD NOT FULFILL THE VISION
THANK YOU VOLUNTEERS!